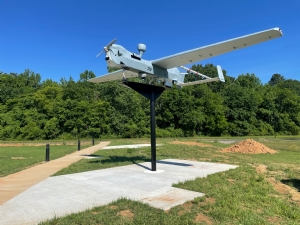 A new military display has been added to the Veterans Memorial Park. An Unmanned Aerial Vehicle (UAV), more commonly known as a "drone", was assembled and installed on June 10. The UAV is a Hunter MQ-5B used primarily for surveillance, target spotting, and battlefield observation in military operations mainly in the Middle East in the early 1990's – early 2000's. The Hunter has a 35' wingspan and can stay airborne for 21 hours.
The UAV arrived in two crates and was manually assembled on the ground by a team of volunteers from VFW Post 6073, American Legion Post 30, and other Friends of the Park. Crews from the Scottsboro Electric Power Board (SEPB) came with their equipment and lifted the UAV into position on the platform, where the team bolted it down in place.
The Veterans Memorial Park Board of Directors is very grateful for the work on the dirt foundation by the City, volunteer work to assemble the UAV, and especially grateful for the support of the SEPB and their skilled crews who lifted and set the Hunter UAV in its final position.