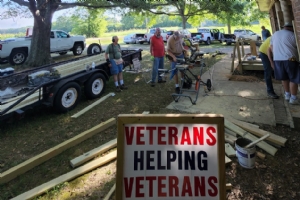 Veterans Helping Veterans recently completed a wheelchair ramp. The group represents veterans that served in the United States Army, Marines, Air Force, Coast Guard and Navy and non-veteran volunteers. On July 27, 2022, a wheelchair ramp was completed for World War II Veteran, William H. Bohannon Jr. of McBroom Hollow in Scottsboro.
Mr. Bohannon served in the U.S. Army from 1945 to 1946. At the age of 98, Bill Bohannon is sprite and clearly recalls his service to our Nation. Bill declared, "I have been lucky!" As he shared stories of his life and service.
Born and raised in Jackson, County, Bill enlisted in the Army in January 1945. He attended Basic and Field Artillery Training at Fort Sill, Oklahoma. He showed us pictures of his unit that included using mules for hauling the cannons.
On August 6, 1945, the day of the atomic bombing of Hiroshima, Japan, Private Bohannon boarded the USS Pondera in San Francisco, California, en route to an undisclosed location. He recalls the soldiers being ordered over the loudspeaker to go below the deck to the bunk area and stay there until recalled. Bill remembers the bunks were stacked high and they had to use rope ladders for access to their beds. Bill says that the next day they were told they were 80 miles of the coast of Honolulu and learned about the top secret atomic bomb for the first time. Soon after, the 81st Construction Battalion, disembarked in Okinawa. Upon his arrival on the Japanese island they were informed Japan had surrendered and the war was over, although he continued to serve there for the next year checking the Japanese caves and guarding the installation. Private Bohannon clearly remembers the day recalling the landscape saying, "The trees were all chewed up from being bombed and looked like corn stalks." He recalls going to church in a tent with muddy floors and spoke of the hardships on the island. Bill recalls surviving the devastating Typhoon Louise and how they struggled to keep tents and equipment tied down around them as the storm killed hundreds and destroyed thousands of structures in the area. He shared the conditions of the people and the island were pitiful. He declared, "I am a country boy and I felt homesick!"
In late 1946, Bill left the Army and came home to Alabama. He had been promoted to Staff Sergeant and they offered him another grade to reenlist. SSG Bohannon recalls telling the officer, "Thank you, I want to go home."
Bill did return home to McBroom Hollow. He married Erlene Lusk. They moved to Illinois for 12 years and moved back to McBroom Hollow 1968. He went to work at Revere Copper and Brass in 1972 and retired in 1982. In his spare time, Bill cared for his family and tended his cattle and hogs. His family contributes his longevity to the long walks he took daily to feed his livestock. Bill Bohannan is a living legacy to his family, friends, and Jackson County. His service awards are Asiatic Pacific Theater Ribbon, Good Conduct Medal, Army of Occupation Medal Japan, Japan Victory Ribbon and 2 overseas service bars.
Americanism is alive and well in Jackson County, Alabama.
Veterans Helping Veterans is a local group of military veterans and non-veteran who volunteer their time and resources to help veterans and their families in need. The projects are funded by the local VFW and AL Posts and provided at no charge to the individuals. We have helped veterans that had to crawl up their stairs, without ramps or handrails to assist them. We have built decks for bed-bound veterans who just want to be taken outside to see the sun, and we have installed new electrical systems for breathing machines that kept tripping breakers and air conditioning in a non-AC bedroom so the veteran could sleep. We even built a ramp for a wheelchair-bound veteran and his wife who could not negotiate their stairs, to hear he passed away only three days later. We were heartbroken to lose another brother-in-arms but grateful we were able to spend time with him.
We relate these experiences so our community knows it is our honor to continue to serve our country and our community. Contrary to a belief that veterans, especially combat vets, are broken and need help, local men and women that volunteered to serve our country and to fight our wars are ready and able to serve in our community. We have a sense of camaraderie that few people outside the military can relate to, while we work to honor the service of those that fought for our country. We want the men and women presently serving on active duty to know when their service is completed, there is a group in their local community that knows their challenges and stands ready to help. No veteran that has honorably served their Country should be forgotten or tossed aside.
If you are a veteran or non-veteran and would like to become a member of this group of volunteers, contact the VFW Post at 256.259.6161. Also, donations are gladly accepted from anyone to fund future Projects.